One of my favorite ways to travel, is to go to a very broad area and have no real idea what I'm going to do when I get there, I call it ramblin'. This summer I decided to go check out Maine with no plans other than a general direction. I will tell you there's a lot to Maine you won't see in the tourist places, and frankly the real Maine is much cooler than the tourist one anyway. So let's set sail down east and see what the great north of Maine has in store for us.
Maine is a state where Nature is the primary provider, be it stone, blueberries, or the bountiful gifts of the sea Maine residents are proud of their roots. Lobstermen are local folk heroes and you wont get far before you see a cartoon lobster tempting you to eat his delicious friends. The gifts of the sea are staples here and Maine's reputation for the best lobster in the world is well earned and well deserved. Every day except Sunday you will see the lobstermen go to sea to check their traps and you can buy Lobster that have never seen anything but the briny deep. Our day and trip starts with a ride from Albany NY through Keene New Hampshire, down to Kittery Maine, where we stopped for some amazing clam rolls for lunch at the famous Bobs Clam Shack, service is fast food is amazing, and I will say they have the best tartar sauce I have ever had.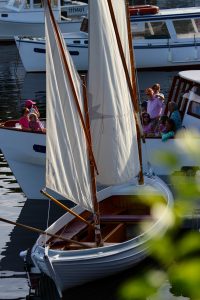 In talking to people, we heard about a place called Perkins cove, since we had some time before bed time (and time to find a hotel) we decided to set out. About 45 minutes further east along route 1, we found Perkins Cove. It is decidedly a tourist trap but we wanted to play around on a board walk and smell the sea air. We park, and walk to where there was a boat captain, sadly we find the normal cruises are done save a packed drinking cruise. We say thanks and start to head down to the point and check out the shops when we are called to by the guy we just were talking to. He says "Hey would you guys like to catch a sailboat?," Britt, my fiance and I immediately respond with a resounding YES!!!! We are lead down the gangplank to a small entirely wood 22′ daysailer, its totally open, one man can easily handle her, our captain, Rob tells us as we are seated. The harbor is dominated by his larger tour boat and has a few work boats, but mostly we see sailboats and charter fishing craft lining the docks. We Cast off and I notice that this boat is entirely sail powered save a small electric trolling motor. I couldn't help but think to myself this is going to be an experience.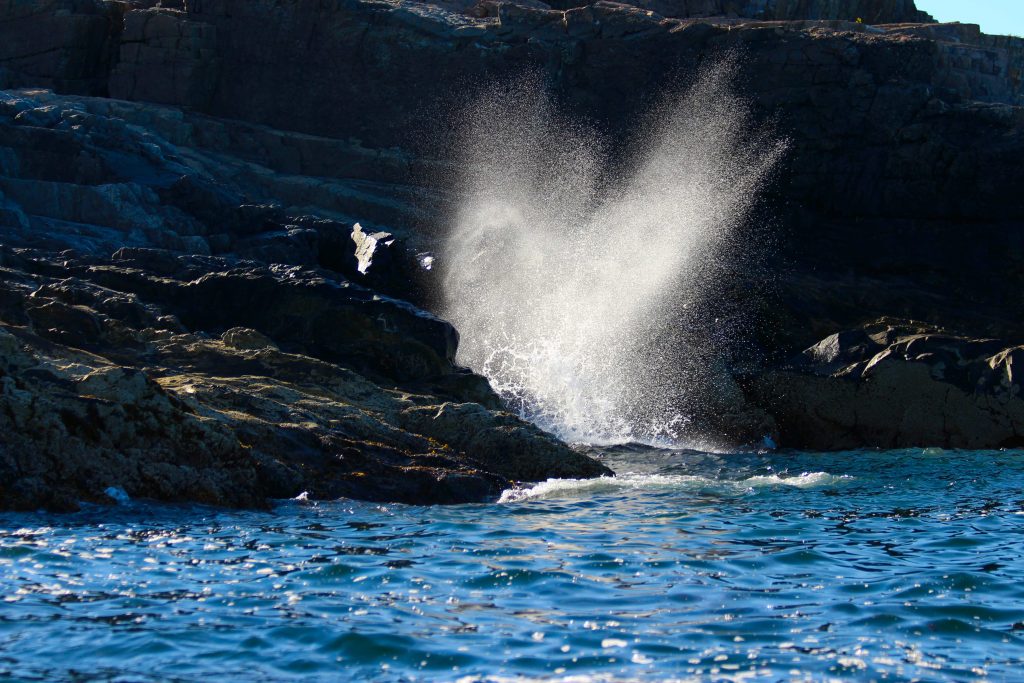 He starts working the tiller to pump us away from the dock, and out into the channel. We are close to the water you can reach your hand down and feel the ocean, and the briney air smells somehow sweeter close to it. Sailing is a unique experience, you're moving in total silence save for the creaking of the mast and straining of the lines. Perhaps the most beautiful thing about sailing is how close you feel to the old ways. It also has an effect of making you feel farther from civilization than you are, we couldn't have been farther than a mile or so off shore but one would think it was an adventure. Perhaps the most stunning sight of the evening was the blowhole at perkins cove. Its a natural formation that uses the power of the tides to force water out at high speed creating a spectacular fountain like effect. We finished the day with a walk along mile road, reputed to have a stunning sight at every turn. I will let you be the judge. There walk itself was easy a paved road connected it to a beach on the other side. The total of the walk was maybe a quarter mile but it took us every bit of a half an hour. We would stop and enjoy each sight which was more stunning than the next.
Finally we ended the first day of our Maine adventure and headed north and about 2 hours further East to see what the next day would bring.